Responsive Web Design
Over 50% of people use smart phones to search for local products and services. How does your website look on mobile phones and tablets?
According to a
national survey
, more people than ever are using mobile phones to browse websites. This becomes a problem when
less than 50%
of sites are optimized for mobile devices. There are many problems when a user on a smartphone attempts to access a website designed for a desktop. Here are a few key problems:
Longer Loading Times
Websites optimized for desktops are usually optimized for faster internet speeds. Unfortunately the average internet speed on a phone is only slightly faster than dial-up! That means images or video with file sizes over even 1 megabyte will take many seconds to load. Mobile phone usage is also fast-paced. Because we live in an on-the-go world, people want information fast. If your business' website is taking too long to load, they'll go back to the search listings and try another website. That's a lost customer!
Dental Marketing Ninjas
vows to reduce the amount of large graphics on mobile devices, allowing for an entire website load in mere seconds.
Information Cuts Off
Mobile devices are getting better at attempting to adjust for information on non-mobile-ready websites. However, many websites out there are designed in such a way that requires a user to have a large display resolution found only on desktop monitors. Information presented in such a way will get cut off. The text and content will just trail off the screen and become un-readable. We assure that none of your information will get cut off, that your visitors will have straight access to everything your business has to offer. Our
web design for dentists
is the best you can find!
Unreadability
Information presented on a very large website will be unreadable unless the user manually drags and zooms in. However, this will cause the user to hunt for information by dragging throughout the website aimlessly looking for an address or phone number. As mentioned above, on-the-go users do not have time to play hide-and-seek, so they'll likely not search for something for more than a few seconds before giving up. We assure that your text is clear and readable for viewers reading on any device.
Jumbled & Misplaced Information
Mobile phones that do adjust for an un-optimized website will place information as it was coded. For example, a text block with address and phone number on a desktop-designed website may appear top for desktop users. However, on a mobile device, that vital business contact information may display at the very bottom of that same website viewed on a mobile device! Dental Marketing Ninjas assures that your vital business information, such as phone number and business location, will be placed at the very top center of every display device.
Incompatible Functionality
Many websites these days have flash or other dynamic content. This content is not always viewable on mobile devices, whether it be an Apple, Android, or Samsung phone. Each device is different. We design our websites with functional compatibility in mind. No matter how we present your information, it'll look good on all devices.

 
WordPress Web Design
Here at Dental Marketing Ninjas, we are very proud to use WordPress for all of our client work. If you are considering using Dental Marketing Ninjas for your website design and development, then you should know a little about the content management platform we use, why we use it, how it works, and how it can help you.
What is WordPress?
WordPress was created in 2003 to be a very simple blogging platform. With an easy-to-use interface, a user of WordPress is able to log in, click "Add New Blog Post" and start typing. Its original concept was plug-n-play, that is, there is no coding knowledge required to use it in its most basic form. As it grew to be the most widely used blogging platform in the past decade, its usage opened up not only for the casual blogger, but for
corporate and enterprise users
as well. The community of WordPress users grew from the hundreds, to the thousands, now in the millions. Further on its growth process, WordPress developed further to allow very custom modifications. The WordPress development team created a very solid platform that allowed programmers from all walks of experience to learn the very simple structure of WordPress and customize it for their own use.
Why Do We Use WordPress?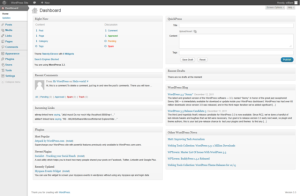 We use WordPress because, to be honest, it's the best out there. It's a very easy to use content management system (CMS) for the average user and client of ours. For the advanced people, like the Dental Marketing Ninjas programming team, it allows for extremely precise modifications to achieve any desire and goal when it comes to website development. WordPress is also secure, with updates occurring frequently to ensure the highest security levels possible. WordPress is easy to back up. Let's say something happens and your website crashes -- irreparable. With just the click of a button we can restore your website to its working form. It's also very customizable. There are many people who use WordPress and don't even use it for blogging! Many of our clients use it for the power it provides when it comes to the organization of content and the ease of use of its many plugins and widgets. Most of WordPress is drag-n-drop, allowing for our clients to organize their information as they see fit. For the more complicated edits, WordPress is easy to manipulate. Did you want a really cool box that comes in from overhead and contains a contact form? WordPress' coder-friendly environments allows us to make that addition with ease, without worrying about negatively impacting the rest of your site.
How Does It Work?
As a client of ours, you'll be given an administrator's login. With this, you'll be able to add and delete blog posts and article pages in a very intuitive administrative dashboard. If you're still confused, we have a team of WordPress experts ready to create you a video tutorial how to get the most out of your new website. If you're not the blogging type, that's okay too. Working alongside us, you'll have full control over the placement of widgets and content.
How Can It Help You?
Hopefully you can already begin to see why Dental Marketing Ninjas uses WordPress for its Dental Marketing and
Dental Website Design
and Development! But you may have more questions, so we'd like to extend the offer to answer any questions you may have about WordPress, web design, Dental Marketing, or anything! Please contact us at the number given below, or
sending us a message
.
Our Website Design Process
Project Assessment
We assess your current website, or, if you don't have one, we get an idea what you are looking for. There are hundreds, thousands - hundreds of thousands! - of styles to choose from, but we keep it simple. We'll show you examples of the most successful websites out there because we know what works. Then, when we have an idea what you are looking for, we'll get straight to work.
Fine Tuning
We'll send you snapshots of our progress along the way. It's good for you to be informed and to see how your site is coming along. Wrong color? Too busy? Not busy enough? We'll use your input as we design the structure of your site to create you something that you will fall in love with.
You can be as involved or separated from this process as you'd like. If you're too busy we'll take the reins and create a project we'd be proud of. If you have a very specific look and feel you're shooting for, like many of our clients, we'll be glad to work directly alongside you. This helps us because we know we're creating something that pleases you.
Content Creation/Migration
If you're migrating from an older site, we'll place your content in the website structure, to fit the look and feel that we agreed upon. If you're creating a new site, we'll collect all relevant and important content from you in regards to your business and showcase it where your website visitors will see it first. Working alongside dentists for over two decades, we understand what people are searching for online. We'll help bring new patients to your lobby.
Launch Live!
We want you to be proud of your new website. After all the content is good to go, we'll walk through the site with you to ensure that you're fully satisfied.
After launch, we'll monitor your sites success using our comprehensive analytic system. Your site works alongside our Online Marketing campaign to market your brand and services.